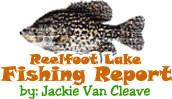 Reelfoot Lake Fishing Report for:
July 16th, 2004
Back again after a nice vacation. Still seeing the same results as two weeks ago. Bluegill and Catfish lead the way with stripes and bass doing well also.
This week's report is courtesy of Billy Blakely, one of Jackie's fellow guides at Blue Bank Resort and another one of Reelfoot's top fishermen.
Lake level is barely above pool level and water temps were at 84 on Wednesday. Here's the rest:
Bluegill: Remains excellent. For this time of year it's better than is usually expected. They're still catching them on the beds in anywhere from 2-5 feet of water and crickets are the top bait.
As usual, just get out about 15-30 yards from the bank and do some casting til you find some. Then just drop anchor and catch em til they stop. Move and repeat.
Crappie: Slow. Not a good time of year for em.
Bass: Remains good. Billy really likes a spinnerbait this time of year. He also likes the double willow blade configuration in gold. Gold is good for the clear water like we're experiencing now.
Catfish: Good. Logs and lily pads are the top spots. On windy days Billy recommends using stinkbait, as the wind will move that smell a little and therefore increase your drawing power. Nightcrawlers are also a good bait.
Stripes (yellow bass) - Doing good on shorelines. Frozen pin minnows fished about 18" deep on a slip bobber should work well.
Click Here
For Other Reelfoot Lake Fishing Reports
Jackie Van Cleave is a guide for Blue Bank Resort. For more information on Jackie's guide services: Click Here
---
Questions and Comments:
Email the Webmaster
Here




Phone: 731-286-NETW
828 Granger Circle
Dyersburg, TN 38024
Page designed by : The Hometown Network
All contents except Mallards on front page and David Maass
artwork are property of Reelfoot.com