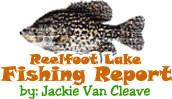 Reelfoot Lake Fishing Report for:
July 16th, 2006
You get about what you'd expect for the heat of the summer on Reelfoot. Nothing is great, but nothing is really poor either. Catfishing is good. Bluegill are winding down. Bass are fair...etc, etc. Blazing temperatures this week probably won't help any.
Don't have an exact water temperature this week, since even Jackie has to take a few days off every now and then. It's probably around 82 degrees. Lake level still holding around pool level. Here's the skinny:
Crappie- Still fair. Try 8 feet and deeper and fish very slowly. Remember that even in these depths the fish could be suspended in shallower water, so try a variety of depths on your baits until you find them.
Bass- Bassin has picked up a little and would be fair. They're bunching up in the deeper holes. Find the deepest water in the area you're fishing. Black Johnson spoons have been working well.
Bluegill- Bluegill are winding down and would be considered fair. There are still some bedded fish, just not many. Crickets and waxworms both should work.
Catfish- Good. Catfish don't mind the heat so much. They're a little tougher than your average fish. Depths of 4-10 feet are usually a safe bet. Most any catfish bait should work. Jackie likes minnows right now. He keeps them in the cooler to keep them fresh. If you let them sit out in this 80+ degree water for long, they don't produce as well. So, change your minnows often.
Stripes (Yellow bass)- Not many people chasing them. Still should be some good fishing right now. They surfacing in good numbers both early and late. Pin minnows or small white curly tails should work. Try the grassy shoreline areas.
Click Here
For Other Reelfoot Lake Fishing Reports
Jackie Van Cleave is a guide for Blue Bank Resort. For more information on Jackie's guide services: Click Here
---
Questions and Comments:
Email the Webmaster
Here




Phone: 731-286-NETW
828 Granger Circle
Dyersburg, TN 38024
Page designed by : The Hometown Network
All contents except Mallards on front page and David Maass
artwork are property of Reelfoot.com