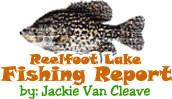 Reelfoot Lake Fishing Report for:
July 2nd, 2004
Folks there just ain't much that has changed since last week. Still just seeing some great catches of Catfish and Bluegill. Bass fishing is good and crappie fishing is slow.
The weather has remained mild with highs only in the mid 80's for this weekend. Chance of rain and isolated thunderstorms almost everyday, as is usually the case this time of year. But, if it's not raining there's still some good fishing to be had.
The lake level has fallen a bit and is now a inch or two above pool level. Observed water temperature on the main lake was at 82 Wednesday.
As mentioned, hardly anything has changed, so most of this is the exact same as last week.. Look for these patterns to continue for the next few weeks.
Headin out on vacation, so there won't be a report next week. Have a happy 4th of July!
Bluegill: Remains excellent. They're still catching them on the beds in anywhere from 2-5 feet of water.
Crickets and jigs tipped with waxworms are both working well.
Do a little casting to find a good bed then just stay there and bring em in til they finally slow down. After that, start searching again.
Crappie: Slow. That's about all we can say about it.
Bass: Been good this week. Same old baits (spinnerbaits, tubes, crankbaits, top waters) in the same old areas (around the pads, mouths of ditches, points and shorelines). Jackie said the first place he'd start would probably be around the grassy shorelines.
Catfish: Excellent. Ditches, logs, outside of the pads and about anywhere else should be good spots to try.
Whether you're in a boat or fishing the banks, you can catch some catfish at Reelfoot right now.
Nightcrawlers and stinkbait fished on a vinyl worm are the top baits.
Stripes (yellow bass) - No reports this week.
Click Here
For Other Reelfoot Lake Fishing Reports
Jackie Van Cleave is a guide for Blue Bank Resort. For more information on Jackie's guide services: Click Here
---
Questions and Comments:
Email the Webmaster
Here




Phone: 731-286-NETW
828 Granger Circle
Dyersburg, TN 38024
Page designed by : The Hometown Network
All contents except Mallards on front page and David Maass
artwork are property of Reelfoot.com