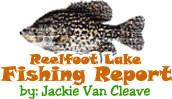 Reelfoot Lake Fishing Report for:
July 24th, 2006
It's really been nice the last few day. Today in particular would have been a nice day to be out on Reelfoot. Not too hot, calm winds...as nice of a day as you can ask for in late July in West Tennessee.
Fishing isn't too bad either, at least for bass and bluegill fishermen. Bass seem to have really turned on with this cool spell and bluegill fishing continues to hold up better than expected for this late in the season.
Lake level is about 2-3 inches below pool level. That's just about as low as it's been all year, but still not too bad. Water temp is at 84 degrees. Here's the rest:
Crappie- Still fair. Nothing has changed. Try 8 feet and deeper and fish very slowly. Remember that even in these depths the fish could be suspended in shallower water, so try a variety of depths on your baits until you find them.
Bass- Bass fishing has really picked up lately and would be considered good. They're really catching a bunch around the pads on buzzbaits, tubes and frogs. The best bite has been between 7:30 and 10:30 in the morning.
The tube fishermen have been doing well with frog colors and pumpkinseed color.
Jackie also points out that if he had the chance to chase some bass he would try a black johnson spoon. Tip it with a white skirt and trim the skirt a little bit. Bring it over the top of the pads and let it fall into the holes.
Bluegill- Just when they should be slowing down for the summer we get some good reports. Jackie has been bringing in 50-60 really good sized fish on recent trips. Can't argue with that. They're doing well right now.
Catfish- Excellent. Jug fishermen have really been doing well. Also try fishing shad around the cypress trees. Just use a light weight and a bobber if you'd like, though it's not necessary. Cover some ground. Hit one side of the tree, then hit the other. Stick and move right now. There's no reason to stay in a spot if you're not getting any bites when the fishing is this good.
Stripes (Yellow bass)- Slow.
Click Here
For Other Reelfoot Lake Fishing Reports
Jackie Van Cleave is a guide for Blue Bank Resort. For more information on Jackie's guide services: Click Here
---
Questions and Comments:
Email the Webmaster
Here




Phone: 731-286-NETW
828 Granger Circle
Dyersburg, TN 38024
Page designed by : The Hometown Network
All contents except Mallards on front page and David Maass
artwork are property of Reelfoot.com