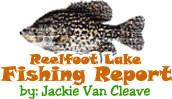 Reelfoot Lake Fishing Report for:
July 30th, 2004
This time of year we often see a steady pattern and that's the case right now. Could remain about the same until September.
Only two things have changed this week. The water temp has dropped to 77 on the main lake and the lake has risen a inch or two. Level now stands barely above pool.
Everything else is the same as last week, so here's what happened last week.
Bluegill: Remains good to excellent. For this time of year it's better than is usually expected. They're still catching them on the beds in anywhere from 2-5 feet of water and crickets are the top bait.
Crappie: Slow. You can probably catch enough to eat if you're willing to spend a leisurely day fishing. Try some minnows.
Bass: Remains good. Guide Billy Blakely brought in 14 on Wednesday and said they were hitting a variety of baits. Spinnerbaits, tubes, and about any of your favorite lures might produce.
Catfish: Still good around logs and isolated clumps of trees. Heard they were catching them on "beast meat". Cubes of round steak that is. An interesting selection, but it works. Nightcrawlers and stinkbait should work also.
Stripes (yellow bass) - Good. Pin minnows are the top bait. Bo's Landing is the place to get em, if they're not sold out.
Try early or late in the day. You will often find them chasing shad on the surface at these times.
Click Here
For Other Reelfoot Lake Fishing Reports
Jackie Van Cleave is a guide for Blue Bank Resort. For more information on Jackie's guide services: Click Here
---
Questions and Comments:
Email the Webmaster
Here




Phone: 731-286-NETW
828 Granger Circle
Dyersburg, TN 38024
Page designed by : The Hometown Network
All contents except Mallards on front page and David Maass
artwork are property of Reelfoot.com