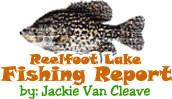 Reelfoot Lake Fishing Report for:
August 13th, 2004
We missed last week's report, but it was the same as the two previous weeks. This week stays about the same also. Late summer is pretty predictable on Reelfoot. The difference this year is the fact that Bluegill continue to bite. Most years will see bluegill fishing taper off at the end of July. They're still going strong, at least before this cold front.
It really cooled off on Thursday and temperatures are predicted to remain below normal for the next few days. Great for fishermen. Whether it's great for the fish or not, Who knows? Cold fronts this time of year don't usually have as big an affect as spring time, but this one is big. Lows last night in the low 50's. That's cold for Tennessee this time of year.
Water temp was at 79, but will probably drop a little in the days ahead. Lake level is at pool stage. Here's the rest:
Bluegill: Still good. Anglers are bringing in nice catches around the grassy shorelines. Some are still on the beds. Crickets are the top bait.
Crappie: Slow to fair. They're catching a few drifting minnows in 11-14 feet of water. Cover a lot of area, as they're scattered.
Bass: Still good early and late in the day around the shorelines. Spinnerbaits have been working well. Chartreuse and/or white are always good colors.
Catfish: Good also. Nightcrawlers have been producing well, but a variety of baits should work (stinkbait, liver, etc.) Try the logs sticking up, or about 15-25 yards out from the lily pads.
Stripes (yellow bass) -Has gone from good to excellent. They like the summer.
Pin minnows fished about 18" below a slip bobber have been working well. Bo's Landing is the place to get those pin minnows and we have it on good authority that they have some in stock.
The south end of the lake is one of the top areas for stripes. Try 2-5 feet of water out from the shoreline. You'll probably see them surfacing early in the day.
Click Here
For Other Reelfoot Lake Fishing Reports
Jackie Van Cleave is a guide for Blue Bank Resort. For more information on Jackie's guide services: Click Here
---
Questions and Comments:
Email the Webmaster
Here




Phone: 731-286-NETW
828 Granger Circle
Dyersburg, TN 38024
Page designed by : The Hometown Network
All contents except Mallards on front page and David Maass
artwork are property of Reelfoot.com