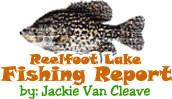 Reelfoot Lake Fishing Report for:
August 20th, 2004
Typical summer pattern on Reelfoot right now. Most fishing is slow to fair. Even the Bluegill finally slowed down. Stripes are the only species doing well. Look for this pattern to hold the next few weeks, or longer depending on the weather.
Has been some pretty nice weather. While it was hot the last few days, it still hasn't reached the sweltering point all year. Got another cold front coming through today and highs are supposed to be in the mid-80's this weekend. Not too bad.
Lake level is dropping and now holds at 4 inches or so below pool. Still a good level for this late in the summer. Water temps are right around 80. Here's the rest, what little there is of it:
Bluegill: Finally slowed this week. Had a very good run on them. They should have slowed weeks ago. You can still catch a few on crickets.
Crappie: Still slow or maybe fair. Like the last few weeks, just cover a bunch of water and you might pick up a mess to eat. Minnows, as always, are the top bait.
Bass: Fair. Good thing about the ole largemouth is he can be caught almost all summer. Mornings have been the best time, early mornings that is.
Black spoons, spinnerbaits and most typical baits should work.
Catfish: These suckers have slowed also. Try nightcrawlers around the trees and the showing logs (logs sticking out of water).
Stripes (yellow bass) -Good. Now here's a true warm weather fish. After such a poor showing last year, it's good to see them biting again. They may be small, but they're a lot of fun.
Stop by at Bo's Landing and get some pin minnows. Then enjoy one of these mild days we've been having.
Click Here
For Other Reelfoot Lake Fishing Reports
Jackie Van Cleave is a guide for Blue Bank Resort. For more information on Jackie's guide services: Click Here
---
Questions and Comments:
Email the Webmaster
Here




Phone: 731-286-NETW
828 Granger Circle
Dyersburg, TN 38024
Page designed by : The Hometown Network
All contents except Mallards on front page and David Maass
artwork are property of Reelfoot.com