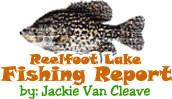 Reelfoot Lake Fishing Report for:
August 20th, 2007
The real story right now is the lake level. It's probably 15 inches below pool level or more. We can't get a definitive answer on how long it's been since it was this low, but our best guess is around 1984. Guide Mark Pierce has a photo from Eagle Nest Resort that shows it even lower than now. By guessing his age from the photo 1984 is about right.
Be very careful out there folks. There are tons of stumps to hit. If you've got a nice boat, it's probably not the time to hit Reelfoot in it.
Beyond the lake level, the catfish are doing well and the crappie aren't too bad. That's about it.
Water temperature is at 87 degrees as of a couple of days ago. Here's the skinny:
Crappie - Still fair. Jackie has brought some fish in from depths as shallow as 6 feet. However, he recommends deeper depths(12+) for better sized fish. Minnows are the top bait.
Bass - Slow.
Bluegill - Slow. Slow.
Catfish - Good. Depths of 3-6 feet are working well. The usual baits will work. Stinkbait in particular work well in the hot water. That funky smell spreads well at these temperatures.
Stripes - We don't really have any reports, but it's probably fair on pin minnows.
Good Fishing!
Click Here
For Other Reelfoot Lake Fishing Reports
Jackie Van Cleave is a guide for Blue Bank Resort. For more information on Jackie's guide services: Click Here
---
Questions and Comments:
Email the Webmaster
Here




Phone: 731-286-NETW
828 Granger Circle
Dyersburg, TN 38024
Page designed by : The Hometown Network
All contents except Mallards on front page and David Maass
artwork are property of Reelfoot.com