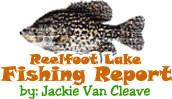 Reelfoot Lake Fishing Report
August 24, 2017
COOL SPELL FOR AUGUST ANGLERS


Jackie Wayne's back with another fishing report ...
Water temp is in the upper 70's - low 80's....lake level is is 5 inches below pool.
Crappie...fishing is picking up in 9 to12 feet of water on jigs tip with minnows. The best fishing is in lower blue basin...be sure to fish slow .

Bass...are being caught in the channel on black spoons quarter oz...also on spinner baits white/chart.
Bluegill...best on red worms...fishing them on bottom moving slow...upper blue basin.

Catfish...are slow at this time...some biting on the shore line.
It want be long till wood duck and teal season so better get ready...
That's all Folks...thanks to all...God Bless be safe...
Be happy you live in America!!!
Thanks Jackie Wayne!
.
For fishing or hunting guide give me a call....

731-431-9700
Jackie Wayne


Click Here
For Archived Reelfoot Lake Fishing Reports
For more information on Jackie's guide services: Click Here
---

Page designed by : Reelfoot.com
All contents except Mallards on front page and David Maass
artwork are property of Reelfoot.com