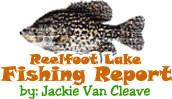 Reelfoot Lake Fishing Report for:
August 26, 2013

CRAPPIE ACTION FAIR / CATFISH STILL BITING GOOD

Jackie Wayne with another fishing report.

Water temperature is mid 80's. Crappie fishing is a little slow, but you can still catch a mess of fish. Some crappie are weighting up to a pound and a half. Crappie are being caught spider fishing with tubes tipped with minnows or wax worms. They are in the lower Blue Basin fishing 6 to12 feet deep. In the upper Blue Basin fish in 4 to 8 feet of water. Bass are slow at this time. Blue Gill are still in shallow water around trees, stumps and shore line. Bluegill are being caught using jigs with wax worms or crickets. Catfishing is good with stink bait or night crawlers in upper Blue Basin. Yellow Bass are doing great with pin minnows in lower Blue Basin. Look for them striking around shore line.

P.S. Fisherman and Duck hunters be aware!!
Reelfoot Lake has an early Wood Duck Season in the middle of September.
The 2013-14 Duck Season will be open Nov. 30 until Jan. 26.

If anyone needs to book a date for fishing or hunting just call me at (731)-431-9700! Be safe! Happy Fishing!

Click Here
For Archived Reelfoot Lake Fishing Reports
For more information on Jackie's guide services: Click Here
---

Page designed by : Reelfoot.com
All contents except Mallards on front page and David Maass
artwork are property of Reelfoot.com