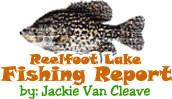 Reelfoot Lake Fishing Report for:
August 26, 2014

HEAT AND HUMIDITY DOMINATE THE WEATHER FOR REELFOOT LAKE FISHERMEN

Jack's back with your summer time fishing report.
Lake level is at pool. Water temp. is in the 80's.
Well its still a little slow, but you can catch a mess of crappie if you get out there early.
The crappie are in 10 to12' of water at the lower blue basin. You need your bait at 6 to 8' using double hook minnow Riggs 1/4 oz. or 1/2 oz. and move real slow not making any noise.
I do better with B&M crappie Riggs. Their made to not just look good...they are the best.
You can also catch a mess of crappie late in the evening.
Blue Gill are being caught the same way early and late. Use crickets or jigs with wax worms around shorelines. The bigger gills are around the trees in 3 to 5' of water.
Boy don't forget your off...the bugs and flies are bad.
Bass are biting pretty good on crank baits. I use Strike King 4s shallow running bait, fishing it slow rod tip up then slowly reeling your bait then start going down with your rod tip as your reeling it in.
It works believe me. Shore lines and points are best.
Catfish are great at lower blue basin or upper blue basin. The best way to catch them is using stink bait.
Strips are doing good at lower blue basin with pin minnows. Shorelines or pockets are best.
Folks its August and fishing can be slow so hang on fall is on its way.
Get your guns out and clean them up or get your bows out and start practicing.
I seen some Blue Wing Teal today...the lake looks just beautiful.
Well that's all folks. Gone Fishing be safe and have fun.
For Fishing or Hunting Guide give me a call...

Thanks 731-431-9700
Jackie Wayne

Click Here
For Archived Reelfoot Lake Fishing Reports
For more information on Jackie's guide services: Click Here
---

Page designed by : Reelfoot.com
All contents except Mallards on front page and David Maass
artwork are property of Reelfoot.com