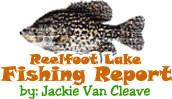 Reelfoot Lake Fishing Report for:
August 5th, 2007
There just hasn't been much too report lately until this week. The crappie have picked back up and Jackie brought in about 20 keepers in an hour Friday. That's not bad at all for this time of year.
Catfish and yellow bass are doing well also. Other species are slow.
Of course it is very hot out there right now. The temperature is supposed to be 98-99 for the foreseeable future. That puts the heat index at 105+. Be careful out there. Take plenty of water and plenty of sunscreen. Try to get out early to beat the heat. That's the best time to fish anyhow.
Another note: The lake level is really low. Probably right at a foot below normal level. So watch out for stumps. You will hit a lot of them right now.
Water temperature is 88 degrees. Here's the rest:
Crappie - It's picked back up this week and would be considered fair to good. Depths of 10-15 feet are producing and minnows are the top bait.
They are bunched up in spots. Once you hit some you should probably pick up 7-8 and then it's time to move on.
Bass - Slow. If you're going after them get way back in the pads. Spinnerbaits and buzzbaits should work.
Bluegill - Slow. Slow.
Catfish - They're catching a lot of catfish right now on yoyos and trot lines. Crickets are working well. A slip bobber setup should work well for casting.
Stripes - First report of the year on them. They are finally biting. Would be considered good. Grooms Pocket, Swan Basin and similar areas with grassy shorelines are good spots. Pin minnows are the top bait. You can get them at Bo's Landing.
Good Fishing!
Click Here
For Other Reelfoot Lake Fishing Reports
Jackie Van Cleave is a guide for Blue Bank Resort. For more information on Jackie's guide services: Click Here
---
Questions and Comments:
Email the Webmaster
Here




Phone: 731-286-NETW
828 Granger Circle
Dyersburg, TN 38024
Page designed by : The Hometown Network
All contents except Mallards on front page and David Maass
artwork are property of Reelfoot.com