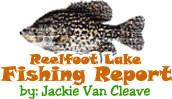 Reelfoot Lake Fishing Report for:
August 5, 2014

SUMMER TIME PATTERN FOR REELFOOT
LAKE FISHERMEN

Jack's back with your fishing report.
Lake level is above pool. Water temp is in the 80's.
Crappie fishing is still a little slow, but what is being caught is good size.
Deep water is best at the south in of the lake. Best bite is in10 to14 feet of water using minnows or jigs fishing real slow. Have your bait set at 8 to10 feet.
Blue Gill is also slow but what is being caught is in 3 to 5 feet of water on crickets or worms.
Bass is slow to good on top water using worms, jigs, crank bait or spinner baits.
Catfish are good on stink bait in water at 3 to 6 feet deep.
There's not much to report at this time of year, so reports are going to be slow also.
Have fun and be safe. Gone Fishing!!!

Thanks 731-431-9700
Jackie Wayne

Click Here
For Archived Reelfoot Lake Fishing Reports
For more information on Jackie's guide services: Click Here
---

Page designed by : Reelfoot.com
All contents except Mallards on front page and David Maass
artwork are property of Reelfoot.com