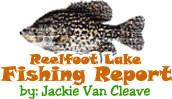 Reelfoot Lake Fishing Report for:
September 10th, 2004
Still waiting on fall here at Reelfoot and seems most of the fish are also. Did have some decent catches of crappie on Monday and Tuesday. Cold front since then may have slowed them once again. But, it could be a sign of better fishing to come.
Lake level is a couple of inches above pool and water temps were at 81 earlier this week. Likely have dropped to around 78-79 since then. Here's the rest:
Crappie - As mentioned, had a few fair catches earlier this week. They aren't really biting well yet, but should steadily improve over the next few weeks til they hit full stride again.
Right now they're in a variety of depths ranging from 6-14 feet. You'll obviously need to cover some water, but fish as slow as possible. Minnows have been the top bait by far this week.
Bass - Still pretty slow. Cooler weather should have about the same affects on them as the crappie. So, look for a steady improvement over the next few weeks.
Bluegill - Still very slow.
Catfish - Catfish continue to bite well and would be considered good this week. Jackie is a diehard nightcrawler fisherman when it comes to chasing cats. Stinkbait should produce also.
Stripes - Still biting well also. Grassy shorelines and points remain good spots to try, but always keep an eye out for them surfacing. Reelfoot is loaded with minnows right now and they'll be hitting them hard for short spurts during the day.
Click Here
For Other Reelfoot Lake Fishing Reports
Jackie Van Cleave is a guide for Blue Bank Resort. For more information on Jackie's guide services: Click Here
---
Questions and Comments:
Email the Webmaster
Here




Phone: 731-286-NETW
828 Granger Circle
Dyersburg, TN 38024
Page designed by : The Hometown Network
All contents except Mallards on front page and David Maass
artwork are property of Reelfoot.com