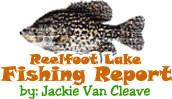 Reelfoot Lake Fishing Report for:
September 17th, 2004
Had a few nice days last weekend and the crappie fishermen did much better than expected. Whether it's the beginning of the fall fishing or not is hard to say, but for a couple of days the fishing was great.
Other species aren't faring quite so well. Bass has been fair. Catfishing is good. Bluegill remains slow. Stripes have slowed.
Lake level is three to four inches above pool. Water temps are at 76 degrees. Here's the rest:
Crappie - As mentioned, it was great last weekend. Jackie was bringing in 70 keepers a day and other anglers also reported good results. This was before the front, so could have changed since. Wind has blown a lot this week and won't allow anglers to hit the open water. Supposed to lay down Friday night and be at 5-10 mph on Saturday.
Try 10+ feet of water. Minnows are the top bait.
Bass - Fair. Kind of hit and miss at this point. You can still catch a few, but they haven't turned on yet. Same ole baits (spinnerbaits, worms, shallow crankbaits, etc.) should work.
Bluegill - Still very slow.
Catfish - Good. The one fish you can count on this time of year to remain steady. Jackie had a good day last week with nightcrawlers. Stinkbait should also work well.
He did good on showing logs in 4-8 feet of water.
Stripes (yellow bass)- They've slowed considerably. Probably not over for the year. Should still seem them turn on and off in the weeks ahead.
Click Here
For Other Reelfoot Lake Fishing Reports
Jackie Van Cleave is a guide for Blue Bank Resort. For more information on Jackie's guide services: Click Here
---
Questions and Comments:
Email the Webmaster
Here




Phone: 731-286-NETW
828 Granger Circle
Dyersburg, TN 38024
Page designed by : The Hometown Network
All contents except Mallards on front page and David Maass
artwork are property of Reelfoot.com