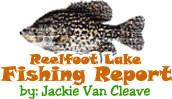 Reelfoot Lake Fishing Report for:
September 19th, 2006
Fall weather is upon us and the fishing should get better and better over the coming weeks. Right now there's good bass and crappie action and very pleasant weather to boot, occasional windy days withstanding.
Even the ducks have been showing up in the last few days. Good numbers of gadwalls, teal and widgeon could be seen moving in today.
Water temperature is at 75. Lake level is at pool level. Here's the rest:
Crappie- Good. Jackie had 40 keepers today in 6-8 feet of water fishing minnows. Said he fished a 50 yard radius the whole time. So, if you find em, stay with em.
Not catching a bunch of monsters, but a bunch of 1/2 to 1 lb. fish. Nothing wrong with that.
Bass- Good. Anglers are having good success fishing the duck weed that's built up in the down wind pockets. Try a frog, buzzbait, tube or any bait that will work well around that thick stuff. Move it real slowly at first over the thickest parts, just to get their attention. They usually can't take it any more once it hits the edge of the weeds.
Bluegill- Slow.
Catfish- Slow.
Stripes (Yellow bass)- Good. They're having luck with pin minnows and white jigs. Calm days are best.
Click Here
For Other Reelfoot Lake Fishing Reports
Jackie Van Cleave is a guide for Blue Bank Resort. For more information on Jackie's guide services: Click Here
---
Questions and Comments:
Email the Webmaster
Here




Phone: 731-286-NETW
828 Granger Circle
Dyersburg, TN 38024
Page designed by : The Hometown Network
All contents except Mallards on front page and David Maass
artwork are property of Reelfoot.com