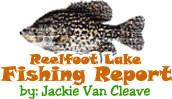 Reelfoot Lake Fishing Report for:
September 24th, 2004
Still some nice crappie fishing to be had this past week. Yellow bass and catfish are also doing well.
With deer season opening this weekend, Reelfoot Lake will be less crowded and it may be a good time to wet a hook. Prime fall fishing is still probably a few weeks away, but things are looking up already.
Due to the lack of rain, the lake level has dropped to about 6 inches below pool stage. The water temps are around 76 degrees. Here's the rest:
Crappie - Well, last week must not have been a fluke. Crappie fishing remains good this week with some nice stringers being brought in from the deeper water (10+ feet). Could continue all the way through November, but there also could be some dry spells before the fall peak. Still a good time to try em.
Minnows are the top bait.
Bass - Still just fair. Of course, the bass fishing is always fair on Reelfoot except in the dead of winter. They haven't started on their fall patterns yet. Look for some improvement in the next couple of weeks.
Bluegill - Remains very slow. Ain't a good time of year for these fiesty little suckers..
Catfish - One fish you can count on for a little while longer. The catfishing is good/excellent. There's been some nice action in the area around Green Island Point, just to name one. Nightcrawlers worked in about 4-8 feet of water should produce.
One note on the catfishing: If you're not used to catfishing on Reelfoot, it may take a little time to figure it out. But, it's one of the most consistent fish that Reelfoot has to offer. Spend some time figuring them out and you'll have a species you can chase spring, summer and fall.
Stripes (yellow bass)- Picked back up this week. Lots of em seen chasing minnows on the surface this week. Both the upper and lower blue basins provide good action. Just keep and eye out for them around grassy shorelines and points, even if you're chasing other species.
Pin minnows fished with a slip bobber are always a safe bet.
Click Here
For Other Reelfoot Lake Fishing Reports
Jackie Van Cleave is a guide for Blue Bank Resort. For more information on Jackie's guide services: Click Here
---
Questions and Comments:
Email the Webmaster
Here




Phone: 731-286-NETW
828 Granger Circle
Dyersburg, TN 38024
Page designed by : The Hometown Network
All contents except Mallards on front page and David Maass
artwork are property of Reelfoot.com