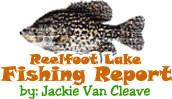 Reelfoot Lake Fishing Report for:
September 25, 2013

SAY GOODBYE TO SUMMER / FALL TRANSITION UNDERWAY

Jackie Wayne with another fishing report.

Water level is good, it's at pool level.

The crappie are starting to bite. Early fall bite is on in about 6 feet to10 feet of water using minnows or jigs at a slow pace.

Bass are still slow at this time.

Bluegill are also slow.

Catfish are starting to bite again around logs in 5 feet to 10 feet using stink bait.
Yellow Bass or Stripes are still biting in shallow water, Grass line or shallow pockets, but doing best with pin minnows and jigs.
For all you Duck hunters it's getting close to time to book your trips. Looking for a great season of duck hunting on Reelfoot Lake this year. Water level is great. If you need me for Fishing or Duck hunting call me at 731-431-9700 or at home at 731-538-2547.

Looking forward to cooler weather!!!!!!
JACKIE WAYNE

The 2013-14 Duck Season will be open Nov.30 until Jan. 26.

Click Here
For Archived Reelfoot Lake Fishing Reports
For more information on Jackie's guide services: Click Here
---

Page designed by : Reelfoot.com
All contents except Mallards on front page and David Maass
artwork are property of Reelfoot.com