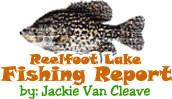 Reelfoot Lake Fishing Report for:
September 4th, 2004
Well, we got a few reports and most of them weren't very good. Not many people fishing right now and for good reason, late summer is always a slow time on Reelfoot. It's hot and the favorite species at Reelfoot (crappie and bluegill) just aren't doing much. With the opening of dove season and deer season right around the corner, there's even more reason to take this week or two off, so you can be ready when fall fishing patterns kick in.
As far as fall fishing patterns, they should be a little early this year. Water temps are only a couple of degrees cooler than this time last year. But, it's been a mild summer here in Tennessee and fall fishing could pick up the end of this month if it continues on this pattern.
Lake is holding at pool level. Water temps are at 79 degrees on the main lake. Here's the rest (what little there is of it):
Crappie - Very slow.
Bass - Slow to fair. The usual baits such as spinnerbaits, spoons, jerkbaits and worms should produce a few.
Bluegill - Very slow.
Catfish - Here's one species that is doing excellent. Try around showing logs, bonnet patches and other similar structure. Night crawlers and stinkbait could both work well, but try both at first if you have the chance.
Stripes - Another warm weather species that are still biting well. Pin minnows fished under a slip bobber are hard to beat. As always, you can get the pin minnows at Bo's Landing.
Grassy shorelines and points are good spots to try, but always keep an eye out for them surfacing. Reelfoot is loaded with minnows right now and they'll be hitting them hard for short spurts during the day.
Click Here
For Other Reelfoot Lake Fishing Reports
Jackie Van Cleave is a guide for Blue Bank Resort. For more information on Jackie's guide services: Click Here
---
Questions and Comments:
Email the Webmaster
Here




Phone: 731-286-NETW
828 Granger Circle
Dyersburg, TN 38024
Page designed by : The Hometown Network
All contents except Mallards on front page and David Maass
artwork are property of Reelfoot.com