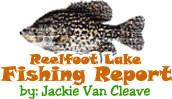 Reelfoot Lake Fishing Report for:
September 7th, 2007
Not much happening right now. The lake level continues to drop. It's probably as low as it's been in 20+ years. We've gotten a lot of emails asking if the hole in the spillway was the cause of the low water. While it's not helping the situation, it's a small factor for these very low lake levels. The lack of rain and record high temperatures are the real culprit. It's not just Reelfoot Lake that is suffering. All the ponds and lakes in the area are extremely low.
Speaking of the leak in the spillway. There was a construction crew working on that a couple of weeks ago, so that should be taken care of for now.
We do have rain in the forecast, kinda. We've got some 50% chances, some 40% chances and a few 30% chances thrown in for the next few days. Let's just hope that one of those actually gives us some significant rain. That would sure help the fishing and the health of the lake in general.
Be very careful out there. As the lake drops, there are more and more stumps to get hung up on. I'm not just talking about your lures. I'm talking about your boat. You'll see when you get out there. At this level it is so easy to get hung up on a stump or log. Getting off can be a frustrating endeavor for even the most experienced Reelfoot angler. What's even better is finally getting off one just to run up on another. Take your time getting your boat off of them and as mentioned, BE CAREFUL!
Lake level is about 18 inches below pool level and water temperature is in the 84-87 degree range. Here's the rest, what little there is of it:
Crappie - Decent. Not too good not too bad, but decent for this time of year. They are about the only action right now along with the catfish.
Depths of 10-14 feet are working well for Jackie and minnows are his top bait.
Bass - Slow.
Bluegill - Slow. The bluegill are poor size right now to boot. These little scrappers must really expend a lot of energy spawning, cause it takes them a while to recuperate.
Catfish - Good. Leave it to Mr. Whiskers to provide some summer time action. No real revelations. Cut shad, stinkbait, nightcrawlers and crickets are producing. Good depths are in the 4-8 foot range. If you can find some hidden underwater logs give them a try. If not, you'll see plenty of logs sticking up right now.
Stripes - No reports.
Good Fishing!
Click Here
For Other Reelfoot Lake Fishing Reports
Jackie Van Cleave is a guide for Blue Bank Resort. For more information on Jackie's guide services: Click Here
---
Questions and Comments:
Email the Webmaster
Here




Phone: 731-286-NETW
828 Granger Circle
Dyersburg, TN 38024
Page designed by : The Hometown Network
All contents except Mallards on front page and David Maass
artwork are property of Reelfoot.com