REELFOOT SCENIC BOAT CRUISES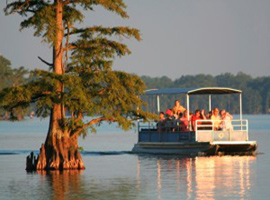 If you get the chance, take the Scenic Boat Cruise on Reelfoot at least once in your life. You can drive around the highway and see the lake or you can get in the cruise boat and experience the lake.
It's one of the oldest traditions at Reelfoot, or for any of Tennessee's state parks for that matter, and is truly a must for anyone who enjoys Reelfoot Lake. Since 1961, cruise boats piloted by experienced naturalists have provided the best way to view Reelfoot's most interesting areas without fishing or duck hunting.
The cruise tours the islands, flooded timber and lily pads while State Park naturalists provide insight and information about all aspects of the lake. It's a great opportunity to view birds, including Great Blue Herons and the occasional Bald Eagle, as well as the diverse aquatic plants. You might even see a snake or two.
Take it from someone who has taken the cruise, it's something you will never forget. It's been almost 25 years since I took my first cruise and I still remember it well. So, make the time, get the family together, and take a relaxing trip around Reelfoot. You won't regret it.
Interpretive 3 hour cruises depart from the Visitor Center/Ellington Assembly Hall at 9:00 AM daily, May through end of September. (weather permitting).
Short cruises are offered on weekends and holidays at 1:30pm and 3:00pm. This cruise is approximately one hour long.
Sunset cruises offered Friday and Saturday at 6:00pm Special afternoon cruises available for groups of ten or more, Monday – Friday between the hours of 1:30pm and Sunset. (Reservations must be made in advance)

3 hour & Sunset Cruise:
Adults - $10 Children under 16 - $6

1 hour Cruise:
Adults & Children - $6
Reservations are required. Call 731-253-9652 to make your reservation.