SPRING CRAPPIE PICTURES
From: Eagle Nest Resort
This has been a great spring for Reelfoot Crappie fishermen/women and the guests at Eagle Nest Resort have really been bringing them in. We thought we'd bring you a few pics to get fired up.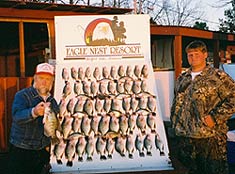 Mike Basinger of Chicago had a heck of a day with guide Ron Dyer. Two limits of nice crappie.
Caught in March using minnows.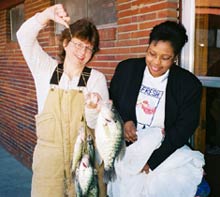 These two ladies look pretty happy after bringing in a nice stringer of crappie, including one that went 15".
Fish caught March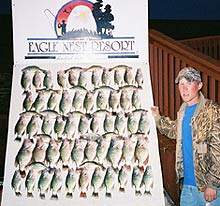 Lee Blakely of Eagle Nest Resort shows off another nice mess of crappie that he and Ron Dyer caught
So far it's been a great spring for fishing on Reelfoot, and it's still just March. Come on down and visit for your chance at some nice stringers like this. Should be getting better and better over the next month or two.
For information on Eagle Nest Resort...click here