REELFOOT LAKE CRAPPIE FISHING WITH
JACKIE VAN CLEAVE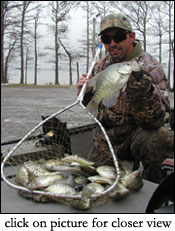 Even though the weather was not ideal for fishing, we got an invitation to go after some Reelfoot Crappie with guide Jackie Van Cleave and we couldn't turn it down. On the boat ride out there I was wondering exactly what we were thinking. It was cold, with highs supposed to be in the 40's. Don't think it made it to the 40's.
Being a novice fisherman, I was excited to see just how to really catch Crappie on Reelfoot Lake. My hopes for catching many were not very high, but Jackie assured me that the Crappie fishing should be good in our fishing report posted yesterday. Well since the weather hasn't allowed much fishing lately, that seemed to be speculation, but who was I to question someone who makes their living fishing on Reelfoot.
It didn't take long for me to see that Jackie knows this lake and knows Crappie fishing. In just a matter of minutes we had a few fish. In the 2 hours and 15 minutes that we braved the cold, we boated 30-40 or somewhere around there. Don't really know the exact count since they were coming in the boat pretty quickly. We fished along side a friend of Jackie's and he had similar results. To be honest, I was amazed. The rigs and methods used didn't seem that complicated. It's just very dependant on boat control and knowing how to fish Reelfoot. Jackie is obviously a veteran at both.
While there were around 70 boats in the area we fished, it's hard for me to believe that many were catching them like that. You also have to consider we should have had more, as I probably lost as many fish as I caught. Didn't seem too tricky from the looks of it, but it takes some getting used to.
We fished with slip bobbers and caught most, if not all, of our fish in 11-12 feet of water. We were using minnows on double Crappie rigs. Check back next week and we'll give a more in depth view of the specific rig used. I'll tell you right now that it will be hard to duplicate his success, but at least you'll have a better idea of how the pros do it.
After the vague fishing report yesterday, we just wanted to let everyone know that it's a prime time for Crappie fishing on Reelfoot Lake. I considered it excellent fishing, but Jackie called it good. If you had a couple of hours like that, I'll bet you'd agree with me. Can't wait to see it when it's excellent.
For more information on Jackie's guide services: Click Here
For a complete list of Reelfoot Lake Guides
...visit this page