A Couple of Monster Bass
from the Reelfoot Watershed Lakes

Phillip Tidwell has done more than his share of fishing in Reelfoot Lake and the surrounding area. Here are a couple of pictures he gave us of some huge bass he caught and released in the Reelfoot Watershed Lakes.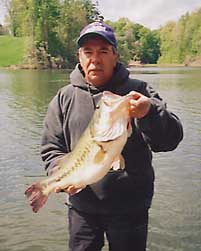 This fish was caught weighed and released.
Weight 9lb 4oz.
Caught on a Green Pumpkin Zoom Lizard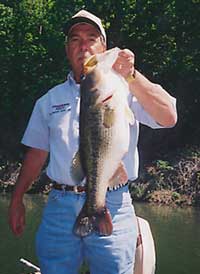 Although this picture makes this one look bigger,
it weighed 7lb 15oz. Still a monster in anyone's book.
Caught on a green pumpkin brush hog.
Also released. She's still out there.
After catching males off of beds in about 4 feet of water, Phillip came back approximately 30 minutes later to take these huge females off the same beds. These fish were caught in the month of April.
Phillip had an outstanding spring last year and even caught one bigger than both of these on Reelfoot itself.
I would also like to say congratulations to Phillip on catching some really nice fish. With my inept fishing techniques, I'm never going to catch the monsters. I'm just glad that somebody can.
For more information and a map of the Reelfoot Watershed Lakes...click here
If you've got pictures of fish caught in the Reelfoot Area, send them along. We would be glad to post them. Just email them to - webmaster@reelfoot.com . Please include any information you have about them (your name, when caught, how much they weighed, what they were caught on, etc.)