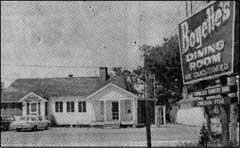 Boyette's was founded in 1921 by the late Nannie Boyette and her husband Red. It was located across the street from it's present location and seated an estimated 70 people. Today it is located across the street from the Reelfoot State Park Visitor Center and Museum and seats over 300 people. There have been several different sets of owners over the years and presently it is owned and operated by sisters Jan Boyd and Fran Hearn. They inherited the business from their parents Jack and Mary Frances Richardson, who operated the restaurant from 1968-1988.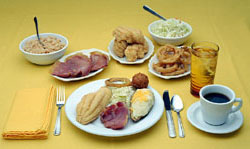 Their guest register has documented visitors from all 50 states and many countries, including New Zealand, Luxembourg, Russia, Vietnam, South Africa and many others. It has become one of the most widely known restaurants in all of Tennessee and the word is spreading more every year.
The food served at Boyette's is regional cuisine consisting of southern fried catfish, their own special country ham, fried chicken and all the trimmings. Make sure and check out their menu for a complete list of offerings.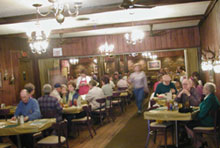 With all their popularity, you would expect long lines and you would be right. What you wouldn't expect is the speed of service and attention to each customer. Over their many years of service, they have perfected their craft and they will turn over thousands of customers on a weekend. On a busy week, they've been known to go through over a ton of catfish. Their experience also shows in the staff. Many of their employees have spent the better part of their lives serving or cooking at Boyette's. In a day when McDonald's is the norm, it's nice to sit down and have your food prepared and served by people who are masters of their craft.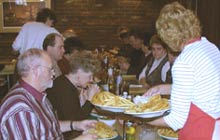 Combine the great food in a great restaurant served by experienced people and it becomes clear why they've stood the test of time. Next time you're in the area, give em a try, you won't regret it.
Some information provided by: The Lake County Banner



Boyette's Dining Room
Hwy. 21
Tiptonville, Tn 38079
Page design by and all contents property of: Reelfoot.com