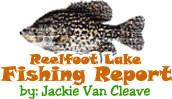 Reelfoot Lake Fishing Report for:
March 26th, 2004
The story this week has been the weather. A cold front came through earlier this week. Looked like it might shut the fishing down a bit. Doesn't appear to have affected it, as crappie fishermen are still doing well. The main problem has been the wind. It's been blowing every day and blowing hard. More wind is predicted for this weekend.
The good news is, they're catching them shallow. So, you should be able to find a calm (or at least calmer) spot to catch a few.
Water temps are ranging from 53-58 degrees. Jackie was having better luck in the 53 degree water on Thursday. Lake level is just a tad above pool level, maybe an inch. Good level for the spring fishing season.
One word of caution: When it's this windy, don't try heading across open water. That water is still pretty chilly and you don't want to take a swim. Just try to stay on the downwind edge as you travel around and use good common sense. Here's the rest:
Crappie: Crappie fishing is still good. Would probably be excellent if the wind wasn't so bad. Jackie was having good luck in 5-6 feet of water on Thursday. But, they're still catching them even shallower.
He pointed out that these windy days would be a good time to jig the shoreline and isolated clumps of trees out from the shoreline.
They haven't started to spawn yet, but the males are just beginning to show a little color. Shouldn't be too long.
Also, make sure and check out...these crappie pictures from Eagle Nest Resort.
Bass: Bass fishing is good. They're catching them shallow, as usual. You might also give the ditches and boat trails a try. They should be using these as they migrate to the shallow water spawning areas.
Top water prop baits, such as the devil's horse (shad color) have been working well on cloudy days. Try the old spinnerbaits (white or chart) and jerbaits on sunny days.
Bluegill: Bluegill fishing is good around the trees. Waxworms and jigs have both been producing.
No report on other species.
Click Here
For Other Reelfoot Lake Fishing Reports
Jackie Van Cleave is a guide for Blue Bank Resort. For more information on Jackie's guide services: Click Here
---
Questions and Comments:
Email the Webmaster
Here




Phone: 731-286-NETW
828 Granger Circle
Dyersburg, TN 38024
Page designed by : The Hometown Network
All contents except Mallards on front page and David Maass
artwork are property of Reelfoot.com