Summer Catfishing on Reelfoot Lake
Here's another picture from catfishing guide Bubba Parrish that shows just how incredible the summer catfishing can be on Reelfoot Lake.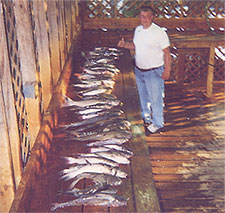 59 Catfish
Total Weight - over 170 Lbs.
Bubba went out with a customer from Indiana and fished from 6 a.m. to 3 p.m. to bring in this mess of fish.
They were caught tightlining with Sonny's stinkbait in 12-15 ft. of water.
For a diagram of how to fish this bait and for more information on Reelfoot Catfishing:
Just check out this previous article